Custom Work
I would love to create a custom ceramic piece for you.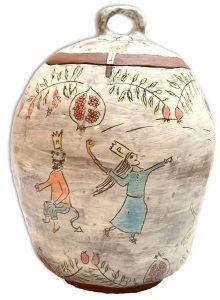 To get started, email me the following:
*The type of form you'd like (small bowl, mug, shallow bowl, serving bowl, covered jar)
* Description of what you'd like me to draw. Is there a particular story or experience you'd like to capture?
* Pictures to help me match your vision.

Turnaround time is 6-8 weeks from when I receive your full request (form type, description, and images) plus a 50% deposit.
Please take a look at examples of my work in the links below so you have an idea of what to expect. My drawings aren't meant to be realistic and instead capture stories and ideas. Finished pieces will have some warp and imperfection.

Forms: Small bowl $140 | Mug $230 | Shallow bowl $230 | Serving bowl $360 | Covered Jar (Small: $500, Large: $800) (Prices do not include shipping.)