About Liz Worthy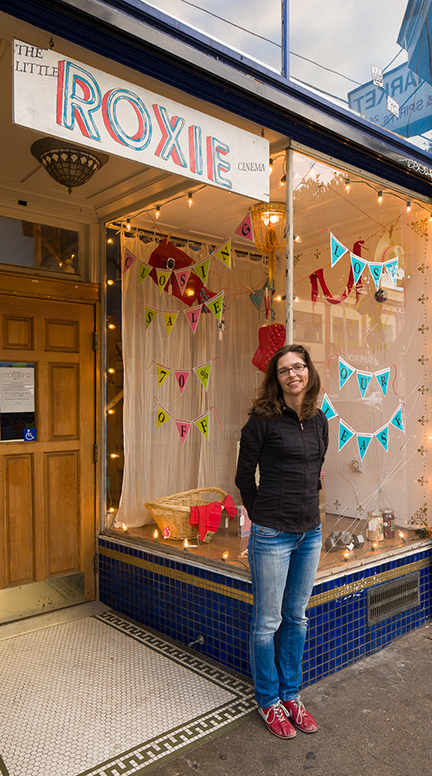 Hi, thanks for visiting!
I'm a ceramic artist, illustrator, writer and teacher. I was born in the Bay Area, grew up in Montana, and returned to San Francisco 20 years ago. I'm lucky to live a mile away from my twin sister, Sonya, who is a great source of support as well as a lot of fun. Often, while out having a cocktail or exploring the city together, she interviews readers for her People Reading blog. 1 
My art is often interactive and I like displaying it in unconventional ways, like this fake boutique in the bay window of the Roxie Movie Theater (pictured). Other local places I've shown my work include Intersection for the Arts, the Exploratorium, Google, the window of 826 Valencia's pirate store, New Langton Arts, the Pacific Ocean,2 the Lab, and Ruby's Clay Studio Gallery. In 2005 I studied ceramics at the Sanbao Ceramic Art Institute in China, which culminated in a show of the blue and white fish I created during the residency.3
My writing has appeared in a variety of places including McSweeneys, the Noe Valley Voice, The Bold Italic,4 and on the sides of numerous ceramic pieces. Here are some of my online publications.
In 2009, I created a writing class that incorporates elements of yoga called Bikram Writing. I've also taught writing workshops at 826 Valencia, including one where kids became penpals with senior citizens in the neighborhood. I also enjoy teaching ceramics and have given workshops both in Montana as well as in the Bay Area.
I hold a bachelor's degree in neuroscience from Trinity College in Hartford, Connecticut. As an artist, I continue to be inspired by the scientific pursuit of how we experience life through our five senses.
I love making art that is interactive and includes personal touches.5  Lately, I've been putting energy into making greeting cards for my Etsy shop. But eventually, this will all be consolidated here.
Click here for my resume.
______________________________
1  The rest of the family is in Montana, where they also exercise their artistic muscle. My brother and dad are fantastic oil painters and my youngest brother has been blogging after graduating college. My mother spends most of creative energy gardening, though when I was younger she painted a mural of Thomas Jefferson and Lewis & Clark in the entry of my elementary school.
2 Okay, not local.
3 Here's an exhibition list.
4 My first Bold Italic piece: San Francisco Inspired Halloween Costumes
5 I think these elements make my work especially friendly to customization. I'd love to work with you!